other [Gravy] issues
Gravy number 2
Adam Mikos, publisher
Darlene Kryza, editor
December/January 1998/1999,
Vol 1, No 2
Jump to ...
Big Chicks / Top Pick
The Andersonville/Edgewater neighborhood in Chicago is unaware of the gem it has in Big Chicks, a local gay bar located at 5024 North Sheridan Road. Not only is it the most interesting bar in the area, but it is also home to my favorite private art collection in the city.
Not the largest collection when comparing to that of the Sandor Family, Big Chicks collected works appear most loved by their owner Michelle Fire. When talking with her recently over the weekly Sunday brunch ritual at Big Chicks she commented on the collections' beginnings and her motives behind their purchases.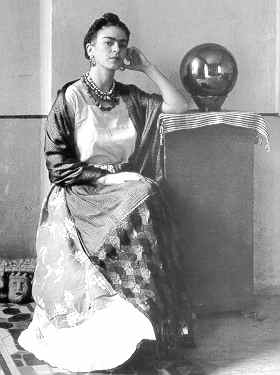 An art history minor in college Michelle has had an interest in the art world and has been collecting the work for many years.
The majority of the work in the collection is photographic, spanning from the 30's to the 90's, including such big names as Diane Arbus, Brassai, Lisette Model, Manual Alvarez Bravo, Bernice Abott, and Ruth Thorne Thompson. There are other names not as familiar yet just as impressive. One of my favorites is a piece by Micky Pallas from 1967 entitled "Golden Crown Gasoline Queen." The black and white image is of a women in full official queen gear: long flowing crushed velvet robe with a fur collar and an extra-large plastic crown; a gleaming smile overlooking the super premium gas pump onto the gas attendant who admires her in his coveralls, matching hat included.
This piece is grouped with two others from Pallas, which hang to the right of the pool table, Another non-photographic piece entitled "Pandora's Box" was painted (?) by Zuleyka Vargas Benitez in 1993. I attach a question mark after painted because, although it appears to be an oil painting, the medium was unmarked and thus unclear.
Boy, I would love to write some educational text to accompany each piece in this collection. (If you are interested Michelle, please let me know.)
"Pandora's Box" has a lush and intricate style, embellished from an original renaissance painting. It features two women caught with their dresses down and their corsets off, one pinching the other's breast. In the center foreground is a one drawer table on which an oval wooden box sits with two metal poles protruding from it, precariously balancing a single brain on its hooks. There is also a pure white towel with red stitching hanging from the front drawer of the table. A must see on your visit.
Some other painters and print makers include Hollis Sigler, Tony Fitzpatrick (lots of these dispersed throughout), an early Phyllis Bramson, and what appears to be a Henry Darger, although I cannot be certain.
I asked Michelle if what was seen on the walls of Big Chicks encapsulated her entire collection. She commented that while there was work at her home, what she chose for the bar revolved around the common theme of women. With a name like Big Chicks, I suppose it is hard to mistake the motives behind these images.
Even the owner of all these treasures, though, has her moments of modesty. She says that sometimes she looks around the bar and says to herself, "Wow, these are really mine." She impresses upon me the importance of being unselfish with the work, sharing it being the most significant aspect of owning. I was curious if she loans the work out for exhibitions, but she assured me that the only time the work leaves is to go to a show of one of the artists she collects, mostly she just adds to it. With its size, one must assume that she is experiencing entrepreneurial success, but she was also sure to convey that living frugally in other parts of her life allows her the opportunity to collect so widely. A women after my own heart.
All in all, this hidden treasure is a must see. It would be interesting to do some research on the influence these pieces have over their patrons state of mind. Maybe quality art on the walls is the key to a successful establishment. In any case, thumbs up to personal and artistic integrity.
Bar Clay's Play Shines
Bar Clay Theater's second production of Play by Samuel Beckett and Sunshine by Wilham Mastrosmone had a recent run at Strawdog Theater, at 5889 North Broadway in Chicago.
This is the second production directed by Wilson Alexander Aguilar and it was refreshing to see him focused on his directing ability instead of spreading himself between directing and acting in a principal role. Aguinar seemed much more confident this time around, trusting his abilities to cast correctly, control stage and lighting design, and most of all keep to the motto, "less is more."
Especially with Beckett, Aguilar appears to have gained understanding. Play a short intricate piece from the early 60's would put any director to the test. Aguilar interestingly interprets the director's notes with few variations. This hopelessly doomed work by Beckett, which is about three cheating hearts wedged in eternal damnation, could have been more misogynistic if the director had not kept a careful watch.
He did a great job, however, of making sure each character was equally appalling. The absence of redeeming qualities in W1, W2, or M, is how it appears Beckett would have wanted it. Lines from Play such as, "Adulterers, take warning, never admit," from M, or W2 saying, "Anything between us, he said, what do you take me for, a something machine? And of course with him no danger of the ... spiritual thing," and W1 reciting without inflection, "Then I forgave him. To what will love not stoop!" These words sealed, without question, an icy forsaken feeling that remained throughout the performance.
My only distraction during this piece , although I understood the historical reference, was the use of the white boxes. I believe that the urns would have achieved a more direct visual and therefore emotional effect on the audience. I am sure that funding played into the choice of props.
Sunshine, chosen as a perfect compliment to Play, was the first work of Mastrosimone I have seen on the stage. This piece was easier (don't mistake that word for lighter) and more enjoyable to watch than Play.
The performance was based on the life of a peep show dancer, Sunshine, who is in an abusive (verbal/physical) relationship with her husband as well as with her customer at the club, Robbie, an introverted, misguided college kid. By chance she meets up with a lovesick paramedic named Nelson, who attempts to help her turn her and his own life around.
In the end we are left to wonder the outcome: does Sunshine leave town, live happily ever after with Nelson, or start the see abusive cycle all over again? I, as always, vote for the happy ending.
Each cast member seemed perfect for their roles, especially Patrick Jacobi as Bobbie. Ladies, this is not a character you'd want to meet up with alone on a dark street, especially without a glass wall to separate you. There were similarly strong performances by Manasses (Sunshine) and Swift (Nelson). The energy felt between Sunshine and Nelson and Sunshine and Bobbie were electrically and distinctly played out as was the relationship between Sunshine and her off-stage husband Jerry.
Nelson's monologue with regard to Sunshine's pet lobster proved to be the highlight of his performance and Sunshine's shimmering moment came during her confusion on how to act when in the apartment with Nelson. One moment she was interacting with him "normally" and the next had fallen into the Sunshine routine. Quite convincing.
Bar Clay Theater's second production was pleasurable and thought provoking. I look forward to the upcoming performances of Electra and Camino Real. Only one bit of advice: Sunshine's present-tense reference to Princess Diana, seemed a place Aguilar could have taken directorial liberties. Especially with her tragic death so recent. Nelson's present tense reference to her was all the more obvious and awkward.
Volume III
A very loose... Presentation? Maybe not the correct word. There were no nametags or little push pins with tiny numbers on them at this show. The work at this live/work space: a south side school's basketball court was hanging from the ceiling, piled in front of scaffolding, stapled and glued to the wall, hung twelve feet up, sprawled across the floor, and unceremoniously plopped on top of a cabinet. New curatorial flair? Who cares. I loved all of it.
The opening continued from an early Friday evening straight through to Sunday afternoon. It was an exemplary show. Arriving around 2 pm on Saturday afternoon, it appeared as if the people showing and running this event had stayed up since the opening the night before. It sure looked like they had, judging by their definite grumpiness. But even the SAIC sneer was acceptable here, because of the circumstances.
They did have a good writeup in the Chicago Reader the day before, without which, I would not have known about the show. If there were a fourth volume, you would be wise to go. Hopefully this time they will publicize better.
It was great to see a group of artists working together and thinking outside the lines.
A plug for the Chicago Reader
Here's a salute to the Chicago Reader. Not you: our readers, but the Reader. Yes the Reader, Section Two specifically, as it is the best resource for openings, exhibition blurbs, and bits and pieces of information on Chicago's' art scene. Not only do they list a wide variety of shows but the service of having an event listed is totally free.
Most people generally take a quick scan of the pictures, trying to hunt down the show that corresponds with the little number serving as a "look through." Then, there are three or four spaces that you always check for openings. After that you're on to News of the Weird. However, if you look a little longer, you'll notice there is a lot of other stuff happening. Loads of galleries are listed, broken down by area, even supplying little check marks to direct you to the wine, err, I mean, the places that are having openings that coming weekend.
Two weeks ago the value of the Reader caught me off guard. First, there was Test Site (reviewed in Gravy this month), which had a listing and a check next to it, meaning it opened that Saturday. I hadn't heard of the space before or recognized any of the names, but, you never know, I thought; not too far away; I'll give it a go. It was great; both because of the work and because it was a totally new experience. The space, the people, their visions, all new, giving me a tingly sensation that I love in regard to creating and pursuing art. All had to do was go. Similarly, I would have missed Volume III (also reviewed) had it not been for the back of Section One that same week.
Just like anything else, it's not the definitive source for all your gallery space needs, but it has been the best thing going. On schedule, nearby delivery, supporting any event large or small, on a (mostly) equal basis. This is a huge asset to everybody, galleries and patrons alike. It lets you know where you can go, and for the spaces and artists it helps to reach people that had not been made aware by word of mouth or printed cards. I mean, show me one person who hasn't enjoyed reading about the Disney exec that is now in charge of Chicago's "contemporary museum." Not to mention their parties and other bullshit.
There are other art publications in the city, but for a variety of reasons they are not as effective at "staying current" (although their layout and design are fantastic. Yes, Good Studio, I am talking about you.) So give up some respect for the hardest working art guide in the city. Now if only something could be done about how lazy Chicago's artists are.
---
Test Site is the name of a temporary exhibition space, which displayed installation and performance art by Kristen Anderson, Robin Barcus, Matt Davis, Eduardo De Soignie, and Mason Hall. These artists utilized many imaginative ideas with exhibit design in this space. The show took place inside a meat packing plant at 1860 Noeth Milwaukee on December 12th, 13th, 19th, and 20th.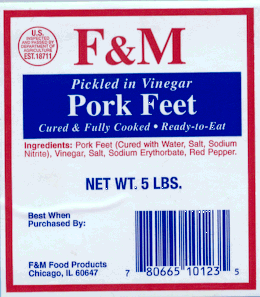 The presence inside this space is one I have only felt only a handful of times while visiting Chicago's exhibition spaces. As you entered the air seemed saturated with little demons, who latched onto you as soon as you arrived, and continually whispered strange inspirations in your ear. The collective environment created by these five artists was very exciting. The space itself was unique; having just been converted from its former meat processing purpose. Whether or not the smell had been preserved on purpose is still unknown, but very effective. The aesthetic of the meat packing facility was wonderful, with a clean coolness to its function. There was wall to wall ceramic tile which provided a great environment for the installation and sculptural pieces shown.
At the opening, there was a very eerie performance happening. A women was sawing off the heel of a pile of high healed women's shoes and placing them into large pickling jars. It seemed as if the pork feet processing was still intact, just substituting heels in its place. The artist was even wearing the meat packing outfit of a hard hat and dust mask.
As you continued through the plant there was a large pink rectangular box, by Eduardo De Soignie which, after looking through the little magnifying portholes, was exactly what piggy heaven must look like, and completely filled the room it had all to itself. There were also two additional pieces toward the back of the space which were excellently created atmospheres.
Look for further information on this groups next exhibition in the Chicago Reader.
---
quandary
beauty's role in photography at the fin du cèicle
Photography has been used, in its short life, for a variety of means. It has been employed to record the horrors of war, memorialize death, make statements both social and political, chronicle the ever changing landscape, sell a product, and so forth. For some, all the above-mentioned ways embrace beauty. For others, if beauty is not central to the image making, than it can not be communicated in those terms.
With the disparate movements gracing the 20th century it seems almost impossible to define beauty and its role in photography at the end of the century. This editorial will begin to address these unending, unanswered questions.
Photography, which has contributed to the artworld for less than 200 years, cannot be looked at with the terms of beauty Immanuel Kant referred to in his Critique of Judgment in the mid 18th century. We must instead turn to modernity to begin to decipher how and if beauty plays a role in photography. This investigation shall begin no earlier than photography's invention in 1827, and go forward to the coming millennium. In doing so, beauty can be looked at through many filters, exposing itself in a variety of ways.
When reviewing the entire history of photography, beauty, as defined in our society as a quality that pleases the senses or mind, seems a criteria it cannot escape. However, many would argue to the contrary. What, they might ask, embraces beauty in the work of Hyppolyte Bayard, Francis Frith, Roger Fenton, Jacob Riis, Walker Evans, Bernice Abbott, Weegee, Joel Peter Witkin, Fredrick Sommer, or Nan Goldin?
Is there a universality to beauty in photography or does it need to be found and addressed in separate terms for each artist, each image? Can you find beauty equally in the work individual artists or do you have to define the parameters for each separately?
Beauty's role will be discussed in each subsequent issue of Gravy. Stay tuned.
-- DK
The strength of the Attic, a not-for-profit gallery space in Humboldt Park, along with every space like it, is the diversity and creativity of both the artists being shown and their audience. This is one aspect that creator and director Ann-Marie Ronkle feels is a priority. She loves how "totally different breeds of art can look perfect hanging next to each other." It is all a result of the exhibition environment she has created. The name isn't a misnomer either; the walls of the gallery are located in the attic of her A-frame house.

This is not a profit driven space. The decisions on who and what are shown are not based on sales, or who they know, or how they look. Ms. Ronkle guards very closely against having her decisions tainted by anything from the outside that is political or superficial. A confirmation of this happened to her while at a space in River North. The rude atmosphere there and the soul sucking jerks that populate their offices, made her sick. So strong was her revulsion to these places that she decided to create a different framework for exhibition opportunity. Where River North has a strict bland continuum of work selected for its conformity, the Attic finds nothing unacceptable. All theories, content, causes, and (in)decencies are worthy. The shows are filled by a measure of the artists' desire to exhibit their work. "Anyone who wants to show can, without kissing ass". This openness to art as art, shows: she is exhibiting work in its truest state. Unaffected by the market dealers, etc, the artists don't need to change their work because of any gallery pressure.

The Attic has been running for five months at a breakneck pace. Over thirty artists have had the opportunity to hang their work there. It truly has been a wide range of artwork. There has been painting, installation, sculpture... Every discipline and some personal mutations that have not been seen anywhere else. This is sure proof of the Attic's value, as well as how important all of Ann-Marie's financial and physical efforts are. I must also mention that she squeezes this endeavor between her classes at Columbia College.

The next show, associated with Egon Schiele, opens January 16, and is conveniently located at 1630 N. Whipple in Humboldt Park. For more information can 773-248-1191. Whipple is two blocks west of Humboldt Boulevard at North Ave. Go get a pen and write this in your date book. Then go buy a bottle of red and save it for this opening.

-- AM
---
other [Gravy] issues

---
Site Host: Mylar Outflux Net
URL: http://gravymagazine.com/gravy2.htm