other [Gravy] issues
Gravy number 4
Adam Mikos, publisher
Darlene Kryza, editor
Matt Taylor, design
April 1999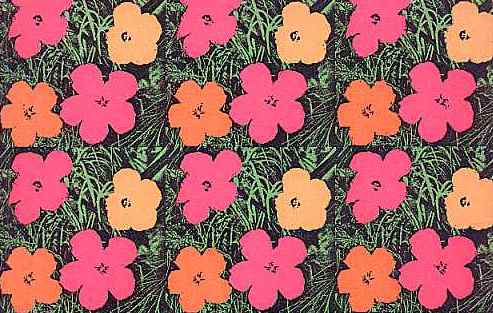 More than 15 minutes, thank God.
March 26, 1999
117 Sandusky Street
Pittsburgh, PA
Banana yellow bridges cross the river as the early spring light illuminates its' color to the water below. Half way across the 8th street bridge, I turn to delight in the city skyline fading behind me. Determined to head north however, in the direction of the hills scattered with homes, restaurants, churches, and wide-open spaces, I am quietly lured toward Sandusky street.
Crossing, I follow the signs to the Andy Warhol Museum. Not my first choice of extracurricular activities, it appeared the only museum open past 5pm. A scurry of activity alerts me to the party going on inside. Happy Hour Friday's at the museum. Nothing as trite as those After Hours events at the Art Institute of Chicago, the concept here gushes a sincere, amiable guise. My time limited however, I bypass the socializing and head to the museum entrance to pay my fee. I want to see as much as I can before closing. The woman in the entryway asks if I have visited the museum before. When I tell her I am a an out of town visitor, she guides me toward the first floor to view Andy's commissioned portraits and then suggests I head up to the top and work my way down.
The first gallery was poignant and powerful. Many of its' models long gone to an otherworldly place. Haunting was the diptych of "Robert Mapplethorpe, 1983" in photo silver and black, looking straight through you; a straight on stare and a sideways glare. Underneath him was "Keith Haring and Juan Dubose, 1983" in green and Day-Glo pink, suggesting an ultimate playfulness and to the right of those was "Sean Lennon, 1986", a seemingly polarized triptych implicative of a 70s cop show introduction. Also gracing these walls, salon style, was "Dennis Hopper, 1970" and "Joseph Beuys, 1980". Potent paintings.
Overcome already, I did not expect what awaited me on the seventh floor. As you exited the elevator, large masonite boards furnished with paper and pencils awaited visitors interested in sketching during their visit. The majority of this floor was dedicated to the art of dance, a passion of Warhol's I was not previously privy to. This trend permeated throughout the museum, dance steps on each floor, coaxing you to learn the Lindy Swing, the Cha Cha Cha, and the Fox Trot. Seven also contained a special exhibit by George Platt Lynes entitled Dancers, which showcased his account of the art of dance in the 30s, 40s, and 50s. Well known for his homoerotic images, Lyns work aided documentation for the Kinsey Report for Research in Sex, Gender, and Reproduction, controversially released in 1949. His dance pieces were erotic as well, concentrating on the beauty and flexibility of the dancer's bodies. Included among these were ballet interpretations of Greek mythology: Apollo as well as Orpheus and Eurydice were attempted by the New York ballet in 1936. These images were especially striking to me, influential in their use of costume, prop, and form. Reminiscent themes appeared in a recent film, What Dreams May Come. Astounded by both interpretations of hell and the power of two soul mates in this ancient myth, I decided to learn more about Orpheus, son of Apollo. Lyns images and Vincent Ward's film, explicate with unique 20th century manifestations. In the latter, What Dreams May Come, sticks to the original version of this Greek myth. Orpheus, known for his enchanting interpretations on the lyre, calmed the angriest of gods and beasts. Orpheus fell in love with Eurydice, and she with he. A jealous suitor Aristaeus, however, would not leave Eurydice alone. One day, fleeing from his pursuits, she was bitten by a snake and perished. Orpheus was allowed entrance to the underworld to find her, charming even Hades with his song. They allowed Orpheus to reunite with her, under the condition that he could not gaze upon her until he reached the upper air. Successful in this rendering, he and Eurydice are united. In the ballet interpretations though, the work acts out the subsequent myths, which tell a tale of Orpheus looking back at Eurydice a moment too soon, her body falling back into the underworld forever. Orpheus is devastated and can no longer make music or socialize. Eventually the muses and others, disheartened by his disinterest and irreverence, rip him to shreds, leaving only his head intact. Even in death, his dismembered head floating down the river, he cries out for Eurydice. The gods, knowing his anguish, throw his lyre to the sky, where today, we can view this constellation dedicated to the universal language of love.
As I meandered from image to image, I was also struck by the alterations the ballet has made over the last 50 years. More tame now, risks are involved when performing to a larger, more generalist crowd. On a recent trip to the Joffrey Ballet of Chicago, I was truly mesmerized by the dancer's accomplishments but found myself wishing for a certain risk from the choreographer that was not present. Patrick Simonello, Calvin Kitten, and Davis Robinson are always exceptional. The dancer's bodies have also changed over time, much leaner and well-defined today. This too, transforms your reading of the dance. A passion that Warhol revisits again and again, you can find vintage performance footage, silk-screens of dancers, Polaroid's of Martha Graham, design ideas for upcoming dance-related events, and much more. Upon his untimely death, he was designing the stage set for an upcoming season of the New York Ballet.
There is much more to see on your visit. A room graced with large mural photographs of dance with his trademark silver helium balloons floating throughout, music piped in that seems to move with the pillows and dancers; a large space covered in Cow wallpaper, equipped with gigantic foam couches that entice you to stay put; a room with nothing but silk-screened Skulls, yuck; and paintings of his toy collection, arranged at a child's eye view. If you made it there before the Easter holiday, you could even have learned to paint eggs in the traditions of the Carpatho-Rusyn society.
Pittsburgh was Andy's town.
"Box Set, Now Even Chunckier"
Chuck Jones
at Bodybuilder and Sportsman gallery
Chuck Jones' "Box Set, Now Even Chunkier" exhibit at Bodybuilder and Sportsman gallery was something of sight and sound. As you entered the gallery, you had your choice of four listening stations and a TV monitor to interact with. The selections included:
A Guide to Advanced Visual Imagery, in which you were instructed by a pleasant female voice to meditate with or without your clothes on, depending on whether or not there was a draft.
Penguins are Flightless Sea Birds, is the answer displayed on the CD cover to the question, "people of Chicago, what are penguin's?" Jones answers in many ways by emphasizing what penguins are not, and what they don't do. He keeps returning to the adage, "penguins are flightless birds". My favorite argument is "penguins do not drive OJ Simpson around in a white Ford Bronco."
The third CD, Marisa Makes Up Another One, is dedicated to Pinky, her bunny. Marisa is Jones' eldest niece. She recorded all of the songs included on her Fisher Price( tape recorder.
The Sweetest Part of the Leaf, CD #4, is 74 minutes of a single guitar riff of Black Sabbath's 'Sweet Leaf". This riff was played during a video, which compiled scenes of films like Shawshank Redemption and Dog Day Afternoon.
Chuck happened to be there when I saw the show. I asked if he had any comments. He re-stated a quote he kept in his keepsake booklet. "More is more is back! You heard it from me. Its back and it's going to kick 'less is mores'' ass."
This work was available in "Box Set" form, containing the four compact disks, a video, a T-shirt, a 100-page keepsake booklet, and a postcard displaying the show's title. All this for only $199.00, not to mention the box.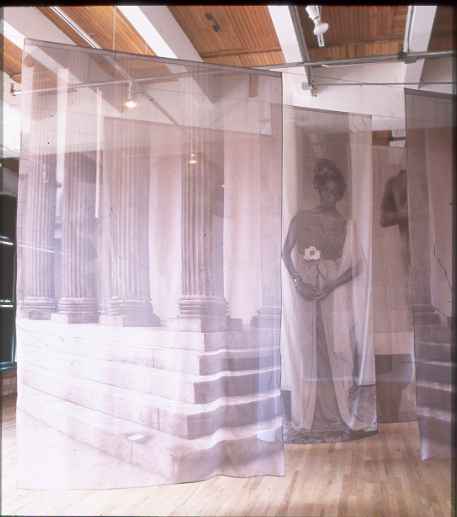 Carrie Mae
at Rhona Hoffman
What a beautiful name, Carrie Mae. Carrie Mae Weems that is. How would you describe such a name? Simple, flowing, soft, solemn, familiar, fragrant, exuberant, intuitive, warm, bucolic: an old soul. The connotations conjured when hearing her name aloud seem the same words in which to speak of her image making.
Although she is most comfortable being addressed as an image-maker, each piece created is folklore, passed on in a visual/oral tradition. A visual anthropologist of sorts. Revolt and Revolution, 1998, fossilizes this concept; ingrains it in our culture. It's meaning intended to be passed on, reflected upon, one hundred years from now, for its guidance and infinite wisdom. To encounter this installation is to walk down our American timeline, twisting and turning in and out of individual moments, in this, our complicated history. To reach the end of that line is to cast back and know that history does indeed repeat itself, over and over again. What changes are the marginalized groups of citizens under attach at a given time.
Hard to define one solitary strength in this work, Weems has created her most impressive masterpiece to date. With the exception of seeing the boom box in the corner of the exhibition space at Rhona Hoffman gallery, there is nothing to complain about in terms of content, use of materials, or cohesion. The fleshes colored flags are not accidental, swinging in our faces, making us confront our sins. From close proximity, one could mistake an individual image for grains of sand on a deserted beach or a 1950's television set hissing after-hours. As a whole, it conjures nostalgia, repentance, fear, confusion, acknowledgment, sadness, and hope. The projected text, ponderous and earnest, affects you with its cadence and tone. Walking down the street, several days after viewing Revolt and Revolution, trees shuddering from a soft wind, you can still hear whispers of Carrie Mae's voice, slipping by your eardrum, affecting you as it moves through time. Her individual words: hands, existence, allure, greed, and ageless, catch the ear of another, somewhere else, inaugurating humanity.
With this work, Weems has made a leap, no longer able to be categorized exclusively as an African-American photographer. She transcends the biting social and political aspects of race relations and culture, bringing America, as a true melting pot, to the surface for the viewer to investigate.
There are many other things to see on your trip to Rhona Hoffman at 312 May in Chicago. Don't miss it. "I Knew, Not From Memory But From Hope, That There Were Other Models By Which To Live". This text accompanies one of the untitled images in the back room. I'll say no more, let you experience it for yourself. Hopefully, I've enticed you enough.
This show runs through April 17th. Immediately following is Jenny Holzer through May 29th.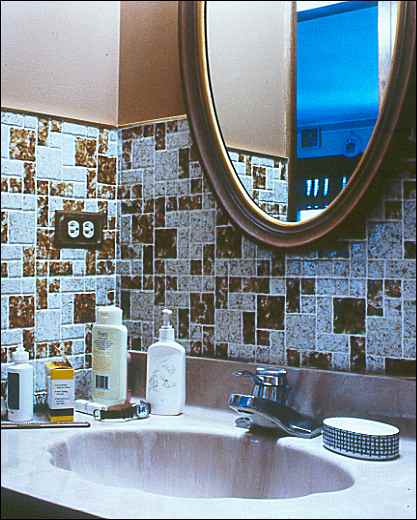 "Interiors"
Brigitte Kirchgatterer
at Next Space
The often repeated and frequently illustrated evaluation of the content of 19th century living rooms and parlors -- made by historians of the twentieth century -- is that the primary decor consisted of eclectic nick knacks and furnishings from around the world. This urge for a museum display of things from far away places coincided with the closure of world geography in the 19th century, the expansion of colonial trade, and the century's invention of the museum.
Looking at Brigitte Kirchgatterer's photographs of contemporary living rooms, one wonders how today's living spaces will be interpreted by future historians. It is difficult to tell, if not impossible, because these photographs represent only a few data points near the end of the century. It is also difficult to judge because they are still to close to home, and we are far from closure for this century.
These are not the furnishings of long dead inhabitants who have become homogenized by their historical distance. We can, and do, take into consideration the seemingly greater variety of people we know and their particular tastes and differing needs. The accepted tradition in photography is to make a point with collections of interior spaces, conclusions about the inhabitants, or about their way of life, or even to be used as exemplars of the banal, the camp, or the pathetically commonplace.
Kirchgatterer's photographs avoid such a bombastic point of view. "I just wanted to photograph other people's places," she has stated. The living rooms and kitchens, as a matter of fact, all belong to her friends. These photographs are us. They represent, painfully, our peers and acquaintances.
Marvelously printed in rich colors and detail, and the work of a practiced eye for composition and detail, it seems almost sinful to look at the details. It is like secretly spying into windows of apartments and houses. It is more than this, it is also like a play without characters, a novel without a plot, where we are to supply the actors and drama.
Brigitte's work will be shown at the upcoming Weisman Exhibition at Columbia College
"Unfinished History"
at the MCA
He's not Cicciolina, but hopefully this Italian import can also cause a little excitement. If anyone needs a jump-start, it is our Mausoleum of Contemporary Art.
So, a new curator and a new show. All this was received with much skepticism by Chicago's art, uh, world. I remember reading the negative reviews for Unfinished History and discussing the bottomless well we have found ourselves in. At that point I hadn't seen the show yet, and wasn't sure if I would. Chicago's brightest critics had said nay all around. That tipped me off. Those guys shouldn't be anyone's deciding factor in going to see a show, so I went.
Breezing past the first two video pieces (one should never start the flow of a show with a video, let alone two.) you come to the fantastic beginning for Unfinished History. Gabriel Orozco's Kitchen Door Maze acted like a decompression chamber, immediately separating the viewer from the general space of the museum and involving all the senses while moving through the piece. (I had an overwhelming flashback to the MCA's Performance Anxiety show where Willie Cole had installed The Elegba Principle, also using doors). Upon encountering other people inside the door maze, one could feel you were experiencing something together. Once you exited the Kitchen Door Maze, you were delivered into the body of the show. I'm not usually one for following the signs of where the correct place is to enter a show, but in this case, it wouldn't be the same if you didn't.
Two things dominated this show: video and sound. I counted seven video pieces (including Pan Sonic's projection) in the show. I do not have the running times for all of them, but I am sure if you add them up it would take a fair chunk of time out of your day. Maybe audiences like watching TV so much that this is the art of the future. Hopefully not because art too, would mirror media, rather than the other way around.
The other, sound, was omnipresent throughout the entire space. Sound usually takes a backseat in shows, relegated to corners and nooks so that it does not spill over onto everything else. Not so this time as ambient noise was constantly funneled into the viewer's mind. Pan Sonic's tones were discernable twenty yards away, mingling with the rhetoric of Detroit's race riots.
The best of these videos was Andrea Bowers' piece, One and the Same Body. Shirin Neshat is very close behind and I'll get to that in minute. Bowers' has taken footage shot from two locations and split-screened them together, one the top half of the screen and the other the bottom half. The top half has you walking outside a college football game at the Rose Bowl, the tailgaters and fans showing their team spirit. The bottom half takes you into the Mall of America. Neither is pretty, nor do they make you proud of such highly esteemed American institutions. What is more American than the biggest college football game of the season and capitalism's trophy, the shopping mall? This is not just a mall remember, this is the " worlds largest indoor shopping mall". That too is very American. Even if the lens adds ten pounds that doesn't explain how it seems to reduce IQs by at least twenty. Somehow, One and the Same Body is both hilarious and difficult to watch. Exaggerated personalities, old people lost in the plastic tundra, all based on ideas that are successful because of collective agreement alone. This video confronts many issues that the American population in general would rather ignore. Our own image of ourselves is quite different from reality. Maybe the end of the millennium is an appropriate time to do some spring-cleaning and look around at ourselves.
As I said, Shirin Neshat's video was also worth the time to watch it. The placement of the screens, not allowing you to watch both at the same time, was amazingly successful. The figures were so powerful facing each other. The man had an all-male audience behind him in support. The woman stood on stage with an empty audience, singing into the black air. Her voice clearly showing its hidden beauty, occasionally coming out in sudden bursts of triumph. Just by illustrating the problem in this way, Neshat showed that the situation was unnecessary and unfair. As you continued through the gallery afterward you could still hear the singing, and it was moving in the new context. (I asked one of the MCA's finest what it was like to hear that piece over and over again while standing guard, and they didn't know what I was talking about. I personally thought it would be grand.).
Huang Yong Ping's huge photographs were also interesting. There is a grass roots feel to these people pictures. I especially like the photo showing an older white man standing a couple feet away from a young kid in a residential neighborhood. Although there is a slightly uncomfortable space between them, I think it would be much less so if a camera weren't pointing at them. Rather than showing a problem, I think it shows an easing of social tensions.
Unfinished History has a very different attitude than Chicago shows usually have. There is a whole world of art surrounding us that is never seen here. A variety of raison d'etre is responsible for this, but in my opinion, you could compare it to Americans not bothering to learn another language because everyone else speaks English. Francesco Bonami has come to town with a show that literally speaks a half dozen languages, and its about time somebody did. I hope all xenophobes are nervous.
This may be the time for evaluating where we are and if we worked all that hard to get here. More than likely this millennium will pass without anything changing. The number of people who won't live the experience totally through the media is so fractional that most millennial tensions will be forgotten in "two and two". "Two and two" is how long the commercial breaks during the Dating Game were.
"Quandary:"
beauty's role in photography at the end of the century,
part 3, the conclusion.
...there is no perfect beauty in the world. In nature there is only an approach toward it. Art gives what nature cannot give. In the energy of the free ego, conscious of harmony not found in nature, beauty is disclosed. Tolstoy quoting Schnasse in What is Art?, 1899.
---
"Survival"
Chris Kerr
at Next Space gallery
If I could only use one word to describe Chris Kerr's work, survival would be it. His show at Next Space this February, the first in that space, was a cold one, one that mimicked the themes of his work. His paintings seem to originate conceptually from the top of an ice cube'.
I feel as if some overwhelming force, more powerful than life itself, is present in Kerr's work. His paintings reveal landscapes of snow covered mountains which connote the search for security. To be rescued from this frigid peak, one can also find forms in the shapes of tents and stretchers present, red crosses embossed on each.
Kerr's show was a perfect beginning to Next Space. It was great to see all his work together in this exhibition. Now that the ice has melted, all we can do is wait and see what comes next.
---
at Ten In One
I was in the back room gallery with two friends. One is a photographer and the other, Ed, has nothing to do with the art world (although he does work in Boy's town). After looking around, Ed asked aloud, "did they sell something?"
The uninitiated view of Ten In One's minimality.
---
Tow-tilla report
the day I was more chill'a than towing Tow-tilla
It almost HAPPENED!!! A battle cry could be heard on that dismal February afternoon.
On this particular day, the Deathcart piece was finished and later left in the van it was transported in, to fester like a rotting piece of fruit. My strung up clowns, meant for this march, were dumped off on Michigan and Randolph by Brandon Z. in his Love Camper...who knows its' whereabouts today.
Let us not forget the Tow-till's dog, Durban, stripped of any chance of strutting her stuff and pooh-poohing on some suits foot, caused by the lack of tow in Tow-till'a.
The abundance of sick car scenes resembled the best antics of Laurel and Hardy: You go one way...We go the other... were staples from which "I want to go home" days are made. People stayed inside because it was a very bad day, yeah, the bad that makes you want to sleep away... After the event that almost, We spent a lifetime trying to find our decrepit beater inside a building meant not for humans, but for a mecca of clean and new cars. Oh Oh Oh and stuff into this rosy red scene a herd of ape drapes and furs that still looked fresh. Boy does this sound like a weekend getaway that you've been dreaming of. I should have read more of the brochure just to be on the safe side.
The day was finally finished with a giant BOX of wine and laughs about what a debacle the whole thing was. People who had skipped the wacky escapade because they "needed a ride" were ringing the telephone as if it was Grand Central. They were hollering and they kept at it until their voices finally turned into background noise. Only four of us went, and to be quite honest, I believe none of us returned the same.
Jeff Wall
lecture
at the Art Institute of Chicago
Every lecture is different, and this one certainly pushed that bill into a law. If you find yourself en route to a Jeff Wall lecture in the future, bring something to play with. This guy can talk, and I mean talk. This was a lecture in the unabridged Webster's sense of the word, delivered in a Ben Stein type monotone.
The environment was not much better. The lecture was held in the hanger like, AIC Board of Trade room, directly following some ridiculous dinner party. This arrangement would not have been so bad had the diners not been continually dropping their seemingly greased silverware. Clank Clank, as the little waiter's skibbled about. This scenario was repeated throughout the forty-five minutes we managed to endure.
After a lengthy preamble, Wall got down to the business at hand. Aided by poorly projected slides, he started with his photograph, Mimic. In Mimic, we see a midday street scene where an Asian man is in the process of walking past a slower moving white couple. The three of them are walking on the sidewalk, directly into the camera. As the Asian man comes up on the couple, he and the white guy are side by side for a few strides. They both look at each other through the corners of their eyes. At the moment that the shot was taken (which was set up, for what that is worth), the trashy looking white guy is using his middle finger to pull back the corner of his eye. He is making a slanted eye. In this same moment the Asian guy recognizes the gesture, and shoots the guy a pissed off/nasty look. His body language giving away a little fear, anger, and a lot of tension.
Jeff Wall explains how that tension is the goal of the image. Through his ramblings about cinematography, he relates to us that he is interested in capturing this silent dialogue on his film; unspoken physical language that people use. The exchange between the two men in Mimic is completely inside the viewer's mind; Wall creates the story to interpret. I had not noticed such an emphasis on communication in his pictures before; now I can see there always was a subtle "story line" present.
This couldn't be shown more completely than in his next image, The Storyteller. This picture is amusingly occurring on a grassy patch beside an expressway. In The Storyteller, we are given something of a larger picture, almost from a surveillance stance, affording us a view of three separate situations occurring simultaneously. With this title, Wall immediately steers his viewers in the direction he wants them to follow. Something is happening verbally, and the first thing you do is look for who is talking, the dialog, who is the storyteller. The focus of the image is divided, maybe shared, between three groups of people. There is the storyteller herself (image bottom left) with her audience gathered around a fire pit, two people watching from behind, and one lone guy sitting at the bottom right. Since this image is totally staged, every actor's placement has a reason. Wall explains that he is showing a relationship between this group, who are unrelated, except that they all seem to be stranded in the same place. The rest of his spiel went over my head, except a quick point he made about the guy sitting by himself. Wall explains this loner's meaning in the photo by saying that every group of people can be defined by the outsiders that hang around them. By looking at him, we can understand who these other people are. I was very interested by this comment, and decided to put it to the test. After quickly surveying the lecture audience around me, it seemed that those of us not important enough to have been invited to the dinner might qualify for this role. ClankClankSkibbleSkibble.
As it ends up, this image is not as successful in holding my attention. Maybe he backed up too far, the distance between subject and viewer going from intimate to removed. It does however, demonstrate the diagram methods Wall uses in setting up his shots. Similarities that run through many of his pictures.
By this point in the proceedings, my friends already shushed, my ass in a deep restful sleep, and the silhouettes of the waiters cruising across Wall's slides, are more exciting. I don't want to sound insulting, but he was bordering on sounding as if he was spewing an "internalized academic dialectic".
The next time I recall tuning into Jeff Wall he was snapping to his slides for Milk. In his style, Jeff Wall is again pointing directly at what he wants you to focus on: the milk. Everything outside is secondary. What is the milk telling us? Christ, I don't know. However, Jeff tells us this, and again turns a seemingly boring picture into a thought provoking pearl. In this image, we see a seated man. Pissed off about something, he takes his anger out on the glass of milk he is holding in his hand. He slams the glass down causing the milky white liquid to slosh out of the glass. Wall freezes the motion of the milk, snapping the frame as it is spreading through the air. He explains that by slamming down the glass, his anger and mood are transferred into the milk. The shape that the milk takes, as it flies through the air, is reflective of the mood of the splasher man. Unfortunately, an explanation is again necessary.
Finally, the camel's back gives out. We left in mid-sentence. I now think better of his work than I did before his lecture, but Jeff Wall is a big pill to swallow. From redundant backtracking to his stuffy and boring speaking skills, I felt like I was doing all the work that night. I am actually refreshed by this work, that has more to it than most popular imagery today, but too much is too much, whichever side of good you're on.
---
Tough bows out
Please allow me to reminisce on Tough Gallery, which operated for almost a decade in the basement of 415 N. Sangamon. Its 98-99 schedule took shape tenuously and its closing was met with more disappointment than surprise.
The gallery had an uncompromised aesthetic and was home to a unique group of artists. Consistently the 'rough edge' of the Uncomfortable Spaces group, Tough championed physical, often conceptual, overwhelmingly 'installation-based' work. A sculpture-specific gallery is a rare breed in the art community. To be understood, Tough endorsed art that required a no-nonsense environment. Art, that following an exhibition, rarely retreated to bins or a back room with any ease.
For his trouble, director Richard Kelly provided the city with a great testing ground. Each show articulated its majestic main room and humble secondary partner, the vault. These two sites for TOUGH always functioned as 'consciousness' to 'unconscious', 'face to face'. The careers of emerging sculptors Jo Hormuth, Joe Litzenberger, Charles Weisen and Adelheid Mers were galvanized here. The former group was cross-linked with established mid-career artists such as, Frances Whitehead, Michelle Feder-Nadoff, Tom Skomski, Gary Justis, and M.W. Burns. Gary Cannone, with text and images, also found leverage there, before his defection to Los Angeles.
Some shows remain magical: that is, 'the best in Chicago, specifically because they happened at TOUGH'. Frances Whitehead's exhibition in May '96 lead this pack. As an initial gesture to a bold installation, she enclosed four central posts, forming sinewy, Bernini-like ceramic columns. At the west end of the room, a 3 ft. cube of sugar painstakingly dissolved under the slow drip of 'wormwood', causing run-off, thick in scent and viscosity (absinthe is the reference and absinthe is the 'stuff of madness'). A curtain of metal mesh saturated in green, honey-like membrane suggested narratives for other props. Here, caged moths illumined by the thrown light of a projector exist beside the glistening curtain, which held its own in near darkness. In the smaller 'vault' (the steel door long removed) Whitehead installed an anamorphic drawing of a moth made legible by a mirrored cylinder. A specimen moth appeared nearby, beneath a magnifying lens. All signifiers alluded to basements, artisans, seclusion, and abandon. Decadent and solid, this show epitomized TOUGH; the sugar cube itself fabricated on-site, in the weeks prior to the opening.
Sculpture remained viable and defiant in this space. Joe Litenberger's solo exhibition of 1997 was a high mark. A life size cast of Litzenberger, like a continental map, was sectioned by colored wax (suggesting the Crayola variety). The face-up corpus lie confined in a lidless crate, implying a mortician's sink or the housing of an artifact. On the walls, variations of welded grid-forms expressed with polychrome wax demonstrated a powerful non-science only sculpture could engage.
"Frozen Turkey Dinners" by Jo Hormuth was, to my mind, her best TOUGH show, although she had many. The intimate-scaled plaster 'balloon animals' in this show were grouped serenely on the floor and on low-rise boxes, like 'pure product' awaiting a sales craze. The sparseness of materials combined with an obscure wink to fragility and castration made the space rightly uncomfortable.
Installation/audio artist, M.W. Burns peddled sound at TOUGH, modifying the existing architecture. Burns' exhibition was a feat, finding ways to be monumental through audio and the subtle reduction of entrance to the main room. In Burns' art, the spectator is not to be entertained but retained.
As much as I will miss the art, I will miss the texture of the place. No other space flaunted a constellation of announcements from previous shows on their incoming wall. Made of black cardboard letters, the gallery's signage located at the top of the stairs was fixed to the wall with pushpins to read 'T O U G H'. These letters frequently shifted out of perfect level, the product of practical experiment. I urge Gravy readers to visit TOUGH after-the-fact and get 'uncomfortable' while two spaces (Ten in One and Beret International) remain. Visit http://spaces.org for links to many TOUGH artists.
...bits and pieces...
---
at Margin
"All and Nothing" Arthur Meyer, Shuko Wada
I would have to vote for the all in this shows' title. All, as it relates to human interconnectedness and the random occurrences in our lives that are not random at all. I had an experience there that was nothing short of miraculous. An image in Meyers' installation included a photograph of grapefruit in the snow. I had photographed grapefruits in the snow for an installation piece and after careful investigation, realized these were indeed the SAME grapefruit. Try to swallow that one!
"All and nothing" is well worth the trip, especially if it's cold outside.
at The School of the Art Institute
1999 Graduate Exhibition
I love wandering through the isles and isles of grocery items available at my Dominick's Fresh Store. Everything exhibited here (with a few exceptional exceptions) was nothing more than product and presentation. Where is the content? the new ideas? the power? Maybe these things are back in their studios, in notebooks full of sketches and ideas that their professors instructed them to abandon or maybe not having them in the first place was a prerequisite for entrance. Whichever it is, the result is breeding a polished and empty predictability.
at Beret International Gallery
Patrick Hugh Lavergne, Val Valgardson
This was a Beret show. There was a feel in the gallery that has been absent for a while. Good tech work, noisy machinery, and a good vibe that made the gallery feel bigger than it is. Valgardson's pieces showed a desire for beauty (the plants) while totally controlling it (the clippers and moving bars). This work reminds me of a conundrum about stopping time by making a constantly repetitive environment. I am told that I can be long winded so I'll leave that alone. While looking at Lavergne's signs I couldn't stop wondering where he had them done. I didn't understand what the silhouettes were telling me, but some of the gestures were interestingly bizarre.
at Klein Art Works
Sam Gilliam
We need to redefine "art". While colorful and well constructed, I didn't find anything in these Triscuit-like pieces. It must have done well in the 80's.
at Belloc Lowndes Fine Art
Chicago Art Scene
More like Chicago art scheme. I hate it when a show's title is so much bigger than its content. We need to redefine "Chicago".
at Gallery 400
Hello Mr. Soul
This is my worst nightmare as an artist. Being part of a show based totally on how well I fit into some curators view of his own life. What looked like an ok-yet-dry show, ended up devaluing every piece in it, and reduced all of the artists, including McCarthy, Mapplethorpe, Jachna, and Coplands, to hallmark cards for whichever facet of his life Tassett wanted to dramatize. Let's redefine "curator".
IAC grants
Screw all of you. At least I got my first rejection out of the way.
CAAP grants
Screw all of you. At least I got my second rejection out of the way.
Gravy Benefit Party
Everything was excellent. To everyone that came: thanks for the support. What you're holding in your hands was printed with your help. Hopefully that makes Gravy feel different from any other rag you read. We love you, except whoever's dog shit in the hallway. Big ups to AMG, MWL for setup and dispensing the brew (and looking good), JB for solving the three prong problem, MaryJane, Rude One, Kino, and Inbaum for steppin lively, BZ for keeping the bar stable, CB and RK for gatekeepin, and our highly wired neighbors for not bringing in the blues.
Call for Writers
Please include a writing sample along with your specific interest for an upcoming issue.
We are looking for writers interested addressing any issues in the arts, to include photography, painting, sculpture, print making, ceramics, film, video, sound, technology, drawing, performance, leisure, writing, music, design, etc.
We are most enchanted with small events happening throughout Chicago or ones on a large scale that are extraordinary. We also encourage reviews from out of town, worthy of inclusion. If you include images, please obtain a copyright release. Gravy can provide this form if you are unfamiliar.
---
other [Gravy] issues

---
Site Host: Mylar Outflux Net
URL: http://gravymagazine.com/gravy4.htm