other [Gravy] issues
http://gravymagazine.com


Gravy number 8
Adam Mikos,
publisher

Braznin Skrebsnikof,
editor

Summer 2000
"Succession (2000)"
"Your Intuitive Surroundings Versus Your Surrounded Intuition"
Olafur Eliasson at the AIC
by Adam Mikos
Eliasson's pieces are here as part of the "Focus" series done by the Department of Modern and Contemporary Art.
More than just the interior space of Rice Hall separates two newly installed Olafur Eliasson pieces. Succession (2000) isn't even inside the building. Succession sits just outside the windows of gallery 264. To achieve this a platform has been jacked three stories up on a system of scaffolding. On this platform, roughly 20 by 20 feet, Eliasson has installed something of a giant window box planter, full of dirt, and now sporting a thick growth of green grass. This planter is also 20 by 20 feet, creating a floating carpet effect when viewed from inside the gallery.
My first impression was the piece was meant to show that there are green pastures outside of the museum world. A nice thought, even though you are unable to get there, since in this case there is no door. The work is said to surround and be surrounded by the museum (according to literature available at the gallery). In other words, we are surrounded by nature, surrounding nature in our galleries. Succession hardly "surrounds" anything, but the gist is understandable.
Eliasson states that he is interested in the push and pull of urban landscapes and the nature/natural world it replaces. Succession is actually part of a series of pieces Eliasson has been working on since 1997. They all involve the growing of grass, are intended to comment on urban developement vs. nature, and visually mark the passage of time.
This piece was most intriguing when I saw it while crossing the Jackson Ave bridge, where it spans the South Shore railroad tracks. There it was, perched atop the scaffolding, butted up against the building like a prosthesis. From that distance, in the new context (en route to see Al Green at the Taste), shoulder to shoulder with "the masses," the art seemed to be a vulnerability: an exposed nerve. I can't explain exactly why it appeared as such, but it was oddly liberating.
Part two of this "Focus" series is Your Intuitive Surroundings Versus Your Surrounded Intuition. This installation runs away with the honor of totally confounding the viewing public. When you walk into the large gallery (271), you notice there is virtually nothing there. The floor is completely empty, the walls bare. Bumpkiss, zilch, inverted Thomas Hirschhorn.
Your Intuitive... is intended to simulate natural sunshine inside the gallery. Again, Eliasson uses only a few elements to get his idea across. Here we have three: a suspended lighting grid wired with one hundred and fifty odd fluorescent tubes, a stretched white scrim of the same dimensions as the lighting grid (creating a soft box effect), hung just beneath the lights, and the third is the gallery space itself. Eliassons use of the space compliments his concept very well. The gallery appears to open even larger when filled with the bright, soft light. Transported, if you close your eyes you can almost feel the rays on your face.
Depending on when you walk in, the lights will be either growing brighter or dimmer. This is a constant cycle which runs as long as the thing is plugged in. The effect is computer controlled by a dimmer connected to the lighting. Eliasson intends the light-to-dark-to-light-etc to represent clouds passing overhead, and, amazingly, it does. At times the temperature in the gallery seems to drop when the "clouds" block the "sun".
Is this just a Pavlovian reaction? Maybe, but it is definitely a believable recreation.
It felt strange when I first thought I understood what these two pieces were about. Can contemporary art be simple, effective, and consist of only two or three elements, "a poetic economy of materials?" Olafur Eliasson has succeeded in this.
Why not combine the two? Sun and growing grass in the same room? I don't think the nature-to-nature cycle is his intention. Rather nature-obstructed-by-man is the point. But who the hell wants to watch grass grow? This may be Eliasson telling us to remember to "stop and smell the roses." Contrived -- but a valuable reminder because there is no green grass outside of the museum world.
Olafur Eliasson installations at the AIC, 5/10 - 8/13
The End of Spaces
by O.S. LaCross
For nearly ten years the Uncomfortable Spaces galleries presented emerging artists, an emerging aesthetic, and an attitude which made them dominate the press in Chicago. In the mid 90's the four Uncomfortable Spaces galleries regularly collected more reviews -- both locally and nationally -- than all the other galleries in Chicago combined.
The Uncomfortable Spaces consisted originally of MWMWM Gallery, Tough Gallery, Ten in One Gallery, and Beret International Gallery. From 1991 they coordinated publicity, openings, and mailings, and shared a mailing list.
MWMWM originally occupied a space at 12th and Wabash; not an easy place to get to from anywhere in Chicago. But Chris Murray moved to a storefront on Grand a few years later. In 1996 Chris closed his doors and moved to NYC, where he has operated sporadically over the last few years.
The exhibitions at MWMWM ran from artists presenting their dried up towels and collections of lint to an exhibit of empty packing crates. But the shows were reviewed. Some of the MWMWM artists in Chicago continued as CPR (Chicago Project Room) gallery, eventually merging with RX gallery, and then in the summer of 2000 moving to LA, where, as Dan Hug of RX/CPR has noted, "alternative is not a dirty word."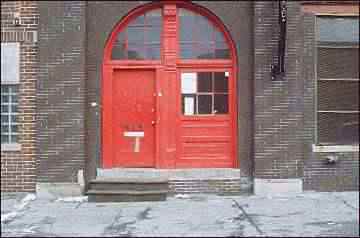 Tough Gallery occupied the basement space of a building owned by proprietor Rich Kelley, on Sangamon between a viaduct and railroad tracks. Easier to get to but harder to find, Tough's invitation cards always included a map. It was a huge high-ceiling angular space, ideal for installations and sculptures. Himself a successful sculptor, Rich Kelley originally just wanted to offer the space to other artists.
Tough's exhibits were regularly reviewed in national magazines. One of the most spectacular was Jo Hormuth's casts of twisted balloon animal shapes [1995], many as animated male organs.
In the beginning of 1999, Rich, under pressure of work and family, closed his doors. A few shows were held subsequently by volunteer organizers, but soon faded.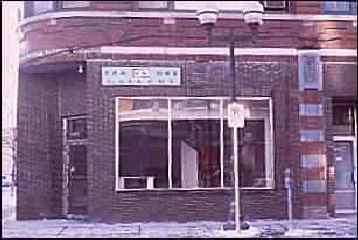 Ten in One started as a collective on Grand Avenue near Racine. One of the strangest shows at that location involved cutting away the floor of the gallery to reveal a map of the United States in the basement, made entirely of mildewing cheese. Ten in One's exhibits on Grand tended to be lively affairs with bands and $20 beer money donations by the artists.
Ten in One relocated to Ohio Street just east of Ashland Avenue, under the auspices of Joel Lieb. The shows evolved to a more subdued aesthetic -- no longer presenting things like Mike Slattery's model airplanes buzzing around the gallery space. In 1994 Joel moved Ten in One to the space adjacent to the Busy Bee restaurant on Damen next to the L station.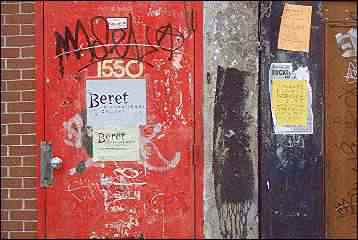 At about the same time Ned Schwartz moved his Beret International Gallery from a third floor location of the Fome Board Building on Elston to Milwaukee Avenue, around the corner from Ten in One. Beret always had the largest gallery space and the longest hours during opening nights, so that the crowd visiting any of the other galleries would restart festivities at Beret around 10 pm.
The space on Elston Avenue went through constant changes in layout as Ned juggled rental and leased spaces with exhibition space. At one time or another there were storage spaces completely surrounded by exhibition space, as well as other galleries of sorts, like Mike's museum [Mike Lash].
Exhibiting at Beret while on Elson always presented logistics problems -- not for group shows where single entries could just be walked up three flights of stairs, but one-person shows required capturing the freight elevator by forcing open the elevator doors and climbing down the elevator shaft to commandeer the elevator parked on the second floor.
Ned had a well informed but maniacally modernist point of view toward high art and the established gallery system. Beret's group exhibitions invariable revolved around some twisted concept of what the gallery art system was all about. An open call would result in work representing both sides of the twist in irony, some artists fully understanding what was happening, many totally unaware of what they were walking into. The "Sentimental Show" comes to mind as an example, with Sony Venice's brick wrapped with the note, "I did too mean it."
"Objects Stolen From the Cars in the Art Expo 93 Parking Lot" ("Funny / Not Funny") had a full audience of Art Expo patrons and dealers looking for missing items. The most visually disappointing but apropos exhibit was probably "Surprise, Surprise, Surprise," where all the submitted art work was wrapped in plain brown paper and auctioned off on the basis of artists' names.
The occasional meta-exhibitions continued on Milwaukee Avenue, "Beret's Greatest Hits, Part II," followed by the widely attended "I Paid $25 To Exhibit My Art in This Show," which included a catalog of images of all the works, albeit hand sketched in abbreviated form.
In late spring of 1998 Ned cut up the space on Milwaukee Avenue to allow for additional rental. The remaining rhomboid shaped exhibition space was lined with plywood backed plasterboard walls, and track lighting was installed to replace the 200 extension cords and clamp-on lamps which usually lighted the space. But with that the large space that had been Beret was gone, at openings the beer drinkers moved to the back room, and attendance started to drop.
Meanwhile Joel Lieb of Ten in One was complaining about rents and changes in ownership of the Busy Bee, and all year during 1998 Joel threatened to vacate and move to New York. In June of 1999 he did just that.
At the end of the spring season of 2000 Ned also capitulated to the demands of family, a job, and a house in a distant suburb, and Beret International, the last of the Uncomfortable Spaces, closed its doors.
---
What had been accomplished in ten years? Other galleries -- many of which only reluctantly accept being called "alternative" -- have filled the void left by the Uncomfortable Spaces: Body Builder, Suitable, Temporary Services, Law Office, Butcher Shop, TBA. Many of these will readily admit that the Uncomfortable Spaces galleries paved the way for their non-representational aesthetic, the intent driven art, the validation of new work, and the showcasing of local talent.
The mainstream galleries in Chicago mostly still adhere to 19th century tastes, they inventory and push paintings as collectable objects, and keep tight control over their stable of artists. "Cutting-edge" is not one of their flavors. Similarly, museums in Chicago never feature local artists unless already nationally established, and the university galleries continue to be obligated to their academic constituency.
The Uncomfortable Spaces showed artists from NY, from LA, and occasionally from Europe, but mostly they exhibited local artists, both young upstarts as well as established artists. In the early and mid 90's the artists put forward by the Uncomfortable Spaces galleries came as a revelation to critics. By the end of the decade this was less true, as the galleries started to rotate through their lists of regulars.
The only other venues for new art in Chicago during the 90's were Randolph Street, NAME, and Artemisia. All three of these suffered from the collective aesthetic of committees. Randolph Street often presented the most interesting and cutting-edge shows, but always felt obligated to showcase work from out of town.
Randolph Street and NAME both folded during this decade, both for financial reasons. Artemisia continues today with large amalgam exhibitions, and remains in the black because of hefty exhibition fees. The Uncomfortable Spaces galleries, in contrast, were entirely financed by their owners, although at a loss. But this also allowed them their dictatorial curatorial style.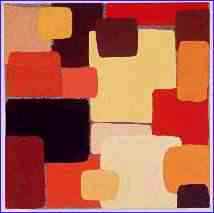 For artists "art" remains defined as the critique of representation. The proprietors of the Uncomfortable spaces understood this; the museums and established commercial galleries do not, and are under no obligation to aid the development of art or support as yet unproven artists; "new" in not on their menu.
What the Uncomfortable Spaces galleries demonstrated was that there was room for well conceived local art, experimental work, work on the edges of what is defined as art, and work which deals with art at its genesis.
The coordination of mailings and openings which was the cornerstone of the Uncomfortable Spaces organization proved handy for a while, but did not in itself constitute a definitive flavor. It was the radically informed aesthetic of the four owners which had the most effect, although all different. Tough's shows were likely to be minimalist space fillers. Ten in One tended toward what Joel Lieb at one time jokingly characterized as "an eclectic decorative aesthetic." Beret often veered toward radical interpretations by cranks and gear heads.
When the work sold, it was most often to other artists. When the work was good, the critics wrote about it -- vociferously. Rebecca Morris' exhibition of paintings at Ten in One, done in the flavors of common products and franchises, appeared on the covers of 4 magazines in one month.
There seems to be plenty of historical information at the Spaces.org website, all accessed through the following:
[gallery briefs],
Dealers and Critics
by Jno Cook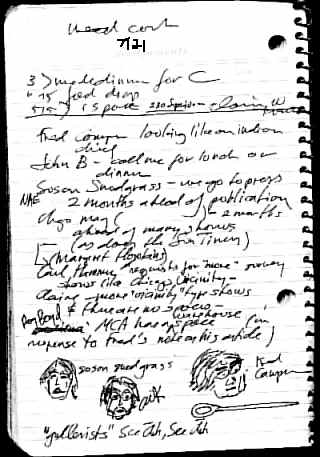 Gallerists and Criticists
The second roundtable discussion of Chicago art dealers (CADA) and art critics (CACA) proved more sedate than the first meeting held a few months ago. Yet it felt like the makings for another chapter in the education of Pantagruel. The first hint of this appeared as the careful enunciation by CACA members of the club's initials, "See Ayh, See Ayh."
Hosted by Claire Wolf-Krantz and Polly Ullrich, the the meeting included, besides established gallery owners and long-time critics, a smattering of upstart alternative galleries and younger writers.
John Brunetti started the discussion with a suggestion of what he would like a gallery to do, "call me for lunch or dinner" -- meaning, of course, "let's talk." The question this responded to, was, of course, "How can we get critics to look at our galleries?"
Mostly the answers emphasized the difficulties with the present system of writing and publication. "We go to press two months ahead of distribution," remarked Susan Snodgrass, speaking about the New Art Examiner, as one of the reasons why not every show gets attended or written about.
Chicago Magazine and the Sun Times chimed in. "Publication space is limited, and galleries are in competition," Margaret Hawkins added. "There is more to criticism than writing reviews," offered Susan, and proceeded to list some of the other activities.
Corey Postiglione posed the question, "How important are we as critics?" An answer from the audience (I think Roy Boyd) was, "We xerox 400 copies of a review when we get one."
And on and on and on.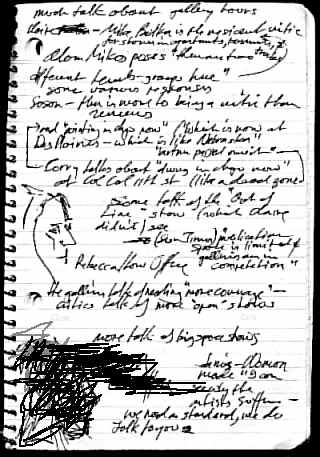 Adam Mikos briefly mentioned Gravy as a low budget alternative to newspapers and glossy magazines. Now in it's third year of publication, he claimed that over 10,000 hard-copies had been distributed over the last seven issues. No one of the Caca critics or the Cada dealers, or for that matter anyone under 30, had heard of Gravy.
A few feathers were ruffled toward the close of the meeting, when Mikos tossed in a few more grenades, first the suggestion that, "there are two different levels here," followed a little later with the remark that, "the critics were not prepared to address the newer work."
Alternativists and Webists
There is merit to these remarks, however. Established critics, publications, and galleries work under a different paradigm from what is emerging like a weed underfoot.
Thirty years ago the Reader, and later New City and others, changed the world of publication forever with their free weekly publications. By the time the critics and galleries took note of this and shifted gears, yet another change in media had taken place.
Gravy Magazine is just one of a growing number of free, fast, mutable, anarchist web publications. Some on-line magazines have vast audiences, many have nosed into niche markets -- and art criticism is a niche market.
Similarly the proliferation of Quark Express adepts has allowed overnight creation of fly-by-night magazines, a half dozen of which deal with art criticism in Chicago. Still dependent on advertising revenue and publication schedules, these magazines have it tough compared to web based magazines.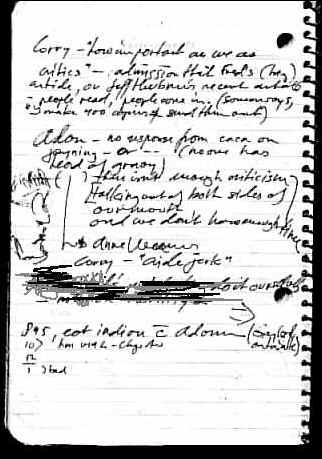 Web based publications have unlimited space, a mutable format, few time constraints, and a lead-time between writing and publication of as little as twenty minutes. A hard copy gets formatted and printed at the click of a key. And although available for free on the web, the hard copies, replicated with xerox machines, sell like wheat cakes.
Ten years ago the Uncomfortable Spaces started a similar revolution in gallery exhibitions. Although retaining much of the format of the established galleries -- monthly invitations, white walls, tiny numbered labels, -- they removed from their requirements the need for an elegant space in a dedicated art district, the need for full time coverage, the inventory of works, the sworn allegiance of a stable of artists, and primarily the dead aesthetic of the past. The artists in this town took note, as did the critics. But disconnecting from models of the past is not all that easy, nor easily accomplished. Money matters forced the Uncomfortable Spaces to close. Newer "alternative" spaces are still attempting the same thing -- on ever slimmer budgets.
The market which drove art sales 50 years ago remains a market for 100 year old artists. Today there are thousands of visual artists in Chicago, were once there were hundreds. Contemporary artists can only care more about showing than selling, and the means of accomplishing this has been taken in hand by many. The ponderous mechanics of distribution and financing of the established newspapers and magazine are being bypassed by zines driven by impatience. The physical plant and manpower requirements of established galleries is being shunted by web galleries and on-line exhibitions. It is cheap, permanent, and it serves its purpose. It's altogether another level of things, and critics need to prepare to address this altogether different art phenomenon.
The second CACA/ CADA Roundtable was held on 7/19/2000 at i-Space gallery.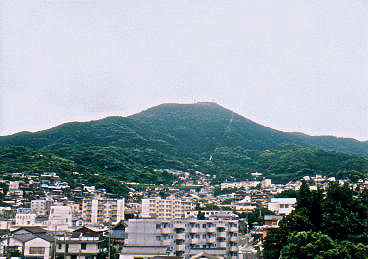 Art in Japan -- Shuko in New Jersey -- Shuko in Japan -- the Hardy Boys
Introduction

We moved to Chicago in 1995 to study at SAIC; I moved from New Jersey, Arthur moved from Boston. We got married somewhere along the line and earned MFA's from SAIC in 1998. We were living and working in Chicago. I was looking for a next step.

Right around Christmas last year, I got accepted to the Center for Contemporary Art, Kitakyushu, located in south end of Japan, to do a post-graduate research study. We wanted to live in Japan at some point of our life and we thought this is a great opportunity.

As a result, we are here waiting for an another typhoon to arrive.

-- Shuko Wada
Art in Japan
by Art Myer
I am writing from the University I attend. Looking out the window, I see the high green nets of the nearby golf driving range, and beyond that the rising slope of Mt. Sakakura, a small but steep mountain rising right at the edge of town. In fact, the mountain effectively stops the town from spreading toward the South.
To the North the town spreads to the Kanman strait, which connects the Pacific with the Sea of Japan, and separates the Japanese islands of Honshu (the main island) and Kyushu (the one where we are). From the lower slopes of the mountain the town gradually shifts from residential to commercial, hospital, administration, and light and heavy industry. This is an old steel manufacturing area, with the first blast furnace in Japan saved as an historic building.
We live in a tiny -- by western standards -- apartment in an eight story building. I think of it as a cell in a little beehive because it is just a long room with an entrance hallway at one end and a little balcony with sliding doors at the other. The entrance hallway is lined with bifold closet doors behind which you find our hotwater tank, laundry, a closet, and a kitchenette.
On the other side of the hallway are found a toilet room and a shower bath sink room, as well as a nook for the refrigerator. We had to buy many appliances when we first arrived, but they were not too expensive. For poor students we are very comfortable. Furthermore, our balcony on the sixth floor looks out onto the mountain and the South, so we have sun and a great view. My school is only a ten minute walk -- totally convenient.
I don't really have any adventures to relate, except for digging fresh bamboo shoots, which are delicious, and using the squat-type toilet, which is precarious. The climate has been cool, but not cold, so rather pleasant. My Japanese is improving rapidly. Total immersion is a great thing. This sunday I am attending a workshop on working with bamboo to make useful little things like soap dishes and pencil holders. Kind of mental hospital activity, but I am interested in the material.
Shuko's art institution is rather disorganized it seems, but they have an excellent library, and she has a good studio. The current visiting artist from europe is very hot these days, but seems to be a bit of an alcoholic.
Ah yes, nothing like living up to your stereotype, I always say. I am the only Western student in my program, and as far as I can see, in the whole school. I guess I stick out a bit, but I don't mind that. I like the attention.
The other day I met a Canadian fellow at a local market who turns out to an english teacher at a local high school. He seems a bit jaded, but interested in hanging out with a fellow english speaker. We had a few drinks together with some of his colleagues at a larger town nearby where they have a night life. Our town is more quiet.
I am having a great time in school playing the American fool. I make stupid jokes in class and my fellow classmates, all from China and all much younger, seem to enjoy it, as do I. When we have the kind of dull teacher, like today, it is good to inject humor into an otherwise long day. For me, life is way too easy.
Shuko takes care of things like paying bills. All I have to do is study. For now we have enough money to survive for about a year without working. Some of the cost of living is lower here. We have no daily travel expenses as we are 2 and 10 minutes away from our respective schools. I wake up at 8, make toast and coffee in our tiny kitchen closet It really is a closet -- hidden behind two bi-fold doors. You open the doors and there is a counter with a sink and a two burner electric stove. Very compact and I like it because easy to clean.
I leave for school at 8:40, and arrive for my first class daily at 8:50. It is very important not to be late. The Japanese are sticklers for rules. I am sure they are being very lenient on us foreigners, but I have seen at least 4 heavy duty lectures delivered by our teachers to "problem" students. I don't want to cause any trouble, so I try to stay within the lines.
Maybe the biggest difficulty about living here is feeling always on stage. Fortunately I can always go home to the apartment and get naked and relax. There is a lot of protocol here.
Of course it is also difficult not being able to read anything or discuss anything in detail. I can read a little, and I know two of the writing systems, but the third is Kanji, and that involves at least one thousand basic characters. I am familiar with maybe 100, and can write 50. Each character has a different reading when combined with another character. It gets very rich very fast.
On the other hand, if you go to a restaurant, you can always point at the plastic model of the food you want. You just never know if you are missing a great deal on the daily special. I guess that's the problem. The obvious stuff is well, obvious... It is the exceptions, the little specials that you miss -- like on Wednesdays, bananas are half off, but only if you buy milk... How the hell am I supposed to figure that out? Well, I have Shuko, who is constantly helping me. I think you might try to ask her what the major difficulties are.
Shuko in New Jersey
by Shuko Wada
Hi, jno. Your 7th grade story [below] made me think of my 11th grade in NJ in late 80's. I was a ordinary high school student planning to be a biochemistry major (many high schools divide classes based on your career in Japan).
One day, my dad said, we are going to the United States, and few months later we were living in NJ, bedroom town of Manhattan. It was in August. Of course, I had no English skills. Japan teaches English as a second language but I only knew the alphabet and was able to say my name. I spent first few week just walking around the school try to get to the classrooms. My parents also didn't want me to put back a year since they thought that all children become fluent in English in few months after they live in US.
They basically had no clue. I spent first one year of high school feeling very stupid and depressed. I felt like I was a ghost just wondering around the building. Trying to read one page of a textbook took over a hour. It wasn't the content, but the language. Easiest multiple choice questions are the hardest. But no matter how difficult the formula is, Math was the easiest. And I had a good time in Art class.
About Art in Japan
by Shuko Wada
OK, now, I will tell you my view of our life here. Arthur lacks information here due to the language. I try to tell him what's going on afterward, but I think it's filtered experience. Kyushu region, where we live is close to two huge American bases, one in Okinawa, another in the town called Sasebo. One train stop west of our town used to be the largest Japanese army base in Japan -- before WW II.
Our town (we practically live on top) used to have a huge steel factory with 60,000 workers now down to less than 5000 I think.. The region wanted to replace the factory with a culture which is us: the international university, the center for contemporary art, a computer media small business incubator, among other replacement strategies.
I had such a hard time renting an old beaten up house since we are so out of the ordinary. Both not making much income, wife try to take care of business. I don't have any relatives in this region (everyone is in Tokyo area). That's how we ended up living in a high-tech bee hive owned by a huge western furniture import company president.
We walk around together and I hear lots about what other people are saying. I haven't had much negative reaction from others, just they are very curious. Many of them starts to talk about guns and killing. The high school students killed in Oklahoma a few years ago during Halloween trick or treat was a student from this region.
I go to the contemporary art institution every day, and anytime I want to I go to library, surf the net, chat in both languages with other participants, make art in my studio. Not much of a schedule. Arthur has classes at the local university from 9 to 3.
Many of the old generation (the primary permanent population in this area) went through the Wars. My studio building used to be a gym for local elementary school and I was told by locals that they saw jets flying above them from the same gym as children. We went to a free bamboo craft class offered by local artisan for foreigners. He started his class by apologizing his speaking ability. A bullet went through his lower cheek during WWII and his jowls are not real.
British artist Hamish Fulton had a show here and said, "real experience can't be replaced by Art." It's too early to tell how I feel after living here for a year but I am learning something ironically outside of the institution right now.
We are going to a party called, "An American Party," given by the Japanese American Association in Kitakyushu at a very expensive hotel room -- American beers, whiskey, foods, hawaiian dances. Free for Americans and $30 per person for others (of course I used my greencard). I got a phone call from this Association yesterday that they were only able to gather 7 Americans (including me) and were expecting over 100 Japanese people looking forward to meet the Americans and party.
Wish I could take the entire Fusion group to this, wearing their transparent suits.
The Hardy Boys in Chicago
by Jno Cook
Hey Shuko; BTW, I arrived at age 12 in the US, not a word of English. We arrived at the start of summer, and one of my slightly older cousins just discarded all her comic books. So we (my sister and I) learned Donald Duck and Bat Man English over the summer.
My mother insisted that we _not_ be put back a year, as they usually do. I have only vague recollections of 7th grade. But we lived in the school building, my father was the school and church janitor. So I would go out our back door and rummage around in the library after school hours. Read all the Hardy Boys -- prolly a few years late, but what the hell.
"Nap Room"
Cindy Loehr at Suitable
by Allegra Secunda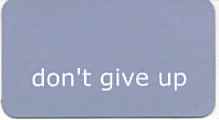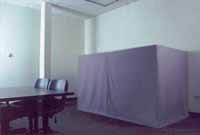 Cindy Loehr changed the gray concrete garage floor at Suitable Gallery to a gray industrial short-haired carpet. An unusual and almost invisible detail, but typical of the meticulous attention she pays to finish.
There are two digital prints on the walls, both views of expanses of water to be navigated. One is titled "Gambling Boat," and looks like a view of the Lake Michigan Water Crib seen through a fog. The second is titled "Escape," a presents a view of a person in a rowboat, some distance from shore.
The carpet, along with the prints on two walls, and a corner shelf with gray give-away refrigerator magnets which read don't give up, formed the background to an installation titled Nap Room -- which was actually the title of one of the two larger pieces staged in this gray setting.
The installation in the gray garage presented two main objects. The first was a gray fabric-draped frame enclosure for a low bed and pillow (also, of course, in gray), the Nap Room. Viewers could individually enter and experience the isolation, the darkness, and the white sound pumped in. One could suggest it was gray sound. Outside hung a clockface with settable hands and the words In Use Until. Isolation or not, the bed kept one in contact with others in the gallery, although the sound was muffled and muted, and nothing could be seen.
The second structure was a stand-up closet the size of a wardrobe, in a wood finish, with a seat and ventilation, and lockable from the inside, titled Calming Closet. Similar to the lie-down enclosure, but it felt more like a soundproof booth or a confessional. The isolation here was much more complete, much more confining.
At the point in my inspection tour when I was about to enter the Calming Closet, I looked back at the low gray enclosed rest bed, the gray framed prints, and the gray rug, and was suddenly stuck with an overwhelming funereal ambience: a bier and a place for grieving, the experience of death for the dead and for the bereaved.
I was also surprised at how quiet the garage area remained during the opening. Almost all of the beer-drinking crowd stayed out of the garage and crowded onto the patio instead. Perhaps to everyone else the installation also looked like a funeral parlor. Only missing from the installation were the flowers and a kneeler.
What undercuts the sense of death and isolation is that Loehr presents the rest bed and the closet as human-resources amenities for corporate use. A descriptive brochure offers the nap room bed for hire. It seems like a denial, like a foil for what is otherwise being presented, and a door through which many viewers may have entered the installation in confusion.
Perhaps such details are needed to complete the transformation of all the objects to another space. Like the refrigerator magnets which start out as funeral momentums, the bier and confessional are then presented as something else -- something about space, something about isolation. But it seems like a needless obfuscation. Suddenly there are no clear reasons for the prints, and it would seem needless to have a gray carpet installed where an industrial cement floor would do.
"Nap Room" is at Suitable Gallery June 9 - July 15
Beer Tasting II
another take
by Keri Butler
After reading Cindy Loehr's recent review of "Beer Tasting II," [see Gravy 7] I became concerned that the entire concept of this event may have been lost to its participants. I can understand how this event could have been misconstrued. Was it an exhibit or just a party? What was on display the beer posters or the people? When was the "first Beer Tasting?" Therefore, I would like to give the readers of Gravy another viewpoint. A version of this article appeared in the May issue of NY Arts Magazine.
While Chicago galleries put on their best shows for Art Chicago 2000, there were also an abundance of organized shows "in apartments, hotels, studios, even rented moving vans" stemming from a D.I.Y. mind set. Often, these type of events turn into parties where the art is reduced to background decor. However, these entrepreneurial efforts reveal a sense of excitement and enthusiasm -- a relief from the often placid commercial galleries. Of course, in the midst of Art Chicago -- a behemoth including 217 galleries and more than 2,500 artists that is an intense workout for the eyes and intellect -- one of these art parties was very appealing.
Here's where the Law Office took the stage with "Beer Tasting II." The Art Chicago crowd enjoyed a well-deserved break without guilt because they were taking part in an art happening so well crafted that they may have found themselves wondering too much about the intentions of such an event. While everyone else was showcasing their best artists and work, the Law Office chose to curate corporate sponsorship and celebrate the social aspect of such art events.
Are they making fun of us? Who's the butt of the joke? The Law Office utilizes subtlety, kindly poking fun of the art world and pop culture as well, but always including themselves in the critique -- and, always with the maxim that a little fun is good for the soul. In "Beer Tasting II," the Law Office, a curatorial collective including Vincent Darmody, Robert Davis, Michael Langlois, and Levine, expressed their affection for American Beer and Hip Hop mixed tapes. This event circumvented the art show and went straight to the inevitable art party -- with an emphasis not on the art (there was none), but on social interaction and promoting the Chicago scene. The Law Office was looking to facilitate a dialogue and the main topic for discussion was "Can art be fun?"
Despite the seemingly nonchalant attitude toward the art "system," the Law Office actually spent more than three months working diligently to curate "Beer Tasting II." Careful thought was put into the concept and aesthetic of the event. Many different ideas were discussed before the group decided on the look for the party which consisted of several beer "stations" organized by beer companies and including posters and trash cans full of corresponding beer -- all of which were donated. To compliment their beloved Hip Hop music, the Law Office received donations of clothing from Wu-Wear, the clothing company of the Wu-tang Clan -- chosen because their business style is similar to that of the Law Office. So, all decked out, the Law Office threw another great party -- yet this one wasn't under the pretense of an art show.
Postmodern E-mail
forwarded by Dragon
Dear Friends,
I was on my way to the post office to pick up my case of free M&M's, sent to me because I forwarded their e-mail to five other people, celebrating the fact that the year 2000 is "MM" in Roman numerals, when I ran into a friend whose neighbor, a young man, was home recovering from having been served a rat in his bucket of Kentucky Fried Chicken -- which is predictable, since as everyone knows, there's no actual chicken in Kentucky Fried Chicken, which is why the government made them change their name to KFC.
Anyway, one day this guy went to sleep and when he awoke he was in his bathtub and it was full of ice and he was sore all over and when he got out of the tub he realized that HIS KIDNEYS HAD BEEN STOLEN. He saw a note on his mirror that said "Call 911!" but he was afraid to use his phone because it was connected to his computer, and there was a virus on his computer that would destroy his hard drive if he opened e-mail entitled "Join the crew!"
He knew it wasn't a hoax because he himself was a computer programmer who was working on software to prevent a global disaster in which all the computers get together and distribute the $250.00 Neiman-Marcus cookie recipe under the leadership of Bill Gates. It's true -- I read it all last week in a mass e-mail from BILL GATES HIMSELF, who was also promising me a free Disney World vacation and $5,000 if I would forward the e-mail to everyone I know.)
The poor man then tried to call 911 from a pay phone to report his missing kidneys, but a voice on the line first asked him to press #90, which unwittingly gave the bandit full access to the phone line at the guy's expense. Then reaching into the coin-return slot he got jabbed with an HIV-infected needle around which was wrapped a note that said, "Welcome to the world of AIDS."
Luckily he was only a few blocks from the hospital -- the one where that little boy who is dying of cancer is, the one whose last wish is for everyone in the world to send him an e-mail and the American Cancer Society has agreed to pay him a nickel for every e-mail he receives.
I sent him two e-mails and one of them was a bunch of x's and o's in the shape of an angel (if you get it and forward it to more than 10 people, you will have good luck but for 10 people you will only have OK luck and if you send it to fewer than 10 people you will have BAD LUCK FOR SEVEN YEARS).
So anyway the poor guy tried to drive himself to the hospital. His radio was tuned into NPR and it was pledge time. Instead of money, NPR needed people to add their name to a letter addressed to Congress in order to save the National Endowment for the Arts. But on the way he noticed another car driving without its lights on. To be helpful, he flashed his lights at him and was promptly shot as part of a gang initiation.
Send THIS to all the friends who send you their junk mail and you will receive 4 green m&ms, but if you don't the owner of Proctor and Gamble will report you to his Satanist friends and you will have more bad luck: you will get cancer from the Sodium Laureth Sulfate in your shampoo, your wife will develop breast cancer from using the antiperspirant which clogs the pores under her arms, and the government will put a tax on your e-mails forever. I know this is all true 'cause my friends have all been sending me emails about it.
Bowling with the competition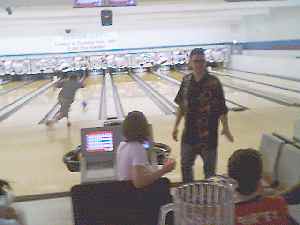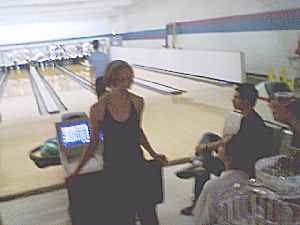 Cakewalk - Ten By Ten
July 19, 2000.
Nu Languag
forwarded by Adam
The European Commission has just announced an agreement whereby English will be the official language of the European Union rather than German, which was the other possibility.
As part of the negotiations Her Majesty's Government conceded that English spelling had some room for improvement and has accepted a 5 year phase-in plan that would be known as "Euro-English".
In the first year, 's' will replace the soft 'c'. Sertainly, this will make the sivil servants jump with joy. The hard 'c' will be dropped in favour of the 'k'. This should klear up konfusion and keyboards kan have one less letter.
There will be growing publik enthusiasm in the sekond year when the troublesome 'ph' will be replased with the 'f'. This will make words like fotograf twenty percent shorter.
In the third year, publik akseptanse of the new spelling kan be expekted to reach the stage where more komplikated changes are possible. Governments will enkourage the removal of double leters which have always been a deterent to akurate speling. Also al wil agre that the horibl mes of the silent 'e' in the languag is disgrasful and it should go away.
By the 4th yer peopl wil be reseptiv to steps such as replasing 'th' with 'z' and 'w' with 'v'. During ze fifz yer, ze unesesary 'o' be dropd from vords kontaining 'ou' and similar changes vud of kors be aplid to oza kombinations of letas.
After ziz fifz yer ve vil have a rali sensibl riten styl. Zer vil be no mor trubl or difikultis and evrivun vil find it ezi tu anderstand ech oza. Ze drem of a united urop vil finali kum tru!
corrections
In the Whitney 2000 review by Adam Mikos: Inigo Manglano-Ovalle is the window washer, not the bobbing head behind the equipment, in "Le Baiser." Gravy regrets any errors, no matter how infrequently they occur.

---
oza
[Gravy]
isuz

---
Site Host: Mylar Outflux Net
URL: http://gravymagazine.com/gravy8.htm