Ten in One Gallery 1542 North Damen Chicago IL 60622 USA
Tel (773) 486-5820 Fax (773) 486-0386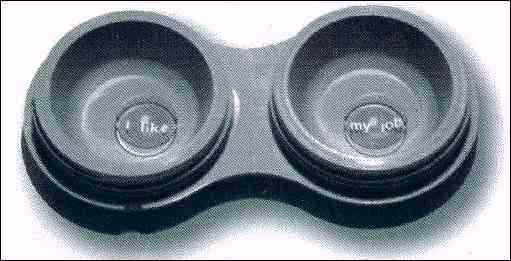 (titles at bottom)
STEPHANIE BROOKS
January 9 - February 14, 1998
Last Name First
by Kathryn Hixson
Please fill out your name, social security number date of birth, full address permanent address, color of eyes, height weight favorite food emotional competency and for purposes of security: mother's maiden name
We are continually bombarded with requests for information: brief bits of text and numbers that define and identify ourselves in order to click into the larger social order. Stephanie Brooks isolates the myriad of classyfying systems into which we slot ourselves, then recontextualizes these systems so that their accumulated banality falls away. What is left is an awareness of the oft-hidden power of these systems -- which are usually considered simply factual and objective -- to wield absurdly subjective power over our emotional private lives.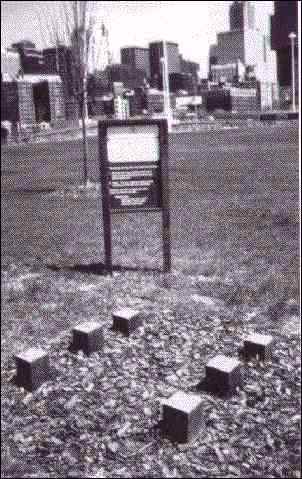 Stephanie Brooks appropriates the forms, measuring devices, and public signage which surround us in modern life, and subtly alters their directives. Amongst her recent projects Brooks rewrote the fine print of the familiar IRS tax form, asking for quantification of "lack of satisfaction with your accomplishments, irritability, deep-seeded hate, truth concealed" and "apologies received, appreciation, and gratitude" instead of objective dollar amounts of credit earned and payments made. A New York Times Stock page and most recently an office building directory received similarly surprising twists wherein what were once simple bits of information are now charged with opinion and feeling. In the public sculpture project Feel Good Here, Brooks turned physical exercise stations like those found in urban parks into sites for emotional growth: instead of sit ups and pull-ups, stick figures help illustrate simple step-by-step directions for feeling good about oneself, and communicating well with others.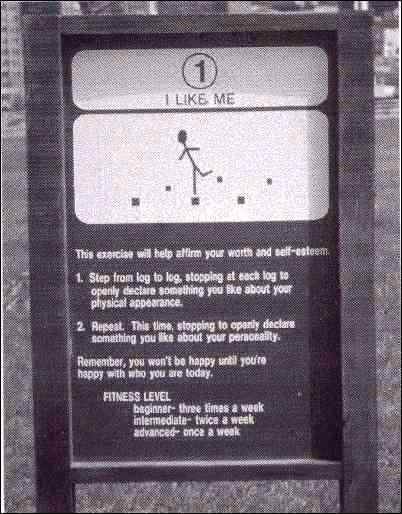 Brooks continues in her new work to investigate the ways in which seemingly objective presentations of form and language isolate and depersonalize experience, even if they are meant to bring us together. A walking tour of the Wicker Park neighborhood is suggested, in signage placed near the gallery on the public sidewalk. In this section of Chicago which recently evolved into a hip, trendy area of shops and restaurants for increasingly upscale residents, Brooks directs the viewer/participant to engage in such activities as talking to your reflection in a store window to "stop procrastination," or laying down in the street feigning unconsciousness in order to get rescued and possibly fall in love with the rescuer. The dark humor and clever appeal to the inherent irony in these directions is at the core of Brooks's strategy.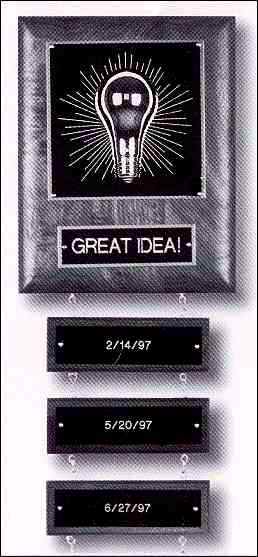 In an earlier employment-related work, Brooks fitted a pair of contact lenses with the text "i like - my job." This efficient, continuous reminder for the obsequious -- or perhaps always potentially dissatisfied -- worker is a hilarious send-up of the endless streams of employee - relation - improvement seminars. In a recent work entitled Self-Portrait, Brooks has adopted those faux-brass plaques given as employee awards for excellent behavior to more directly express how people are judged by their bosses. Instead of "sold most widgets in fourth quarter 1997," Brooks' accolades include "asks penetrating questions," "sees the big picture," "motivates subordinates," and "knows when to seek help." In another piece that takes the same plaque form she has a shiny brass light bulb symbolize her "Great ideas," with added plaques that record the dates such thoughts came to her. By using these public displays of personal accomplishment, Brooks gently parodies everyone's incessant desires to please oneself and others, no matter how corny these desires may seem.
Taking these concerns in another related direction, Brooks has focused on the physical appearance of standardized forms, with their regularized lines and boxes and blanks to fill in. She has further abstracted and enlarged them into physical objects in Last Name First and D.O.B. (date of birth) The results look suspiciously like Minimalist sculpture, made by Sol Lewitt or Donald Judd. This similarity is not only formal: In this elegant gesture, Brooks has demonstrated that the Minimalists program to reduce and universalize aesthetic form mirrors the social forces of categorization and objectification used to maintain cultural cohesion.
As sinister as these forces may be, Brooks manages to unsettle their rigid rule in other ways. She has made a ridiculously long steel ruler which seems very familiar, if somewhat unwieldy but with a signature Brooks gesture the system of measurement has changed from feet and inches, to hot dog and cocktail weiner length. The All-American hot dog is symbolic of middle-class taste, and its standardized ubiquity makes it a perfect unit of measure in her subjective scenario. The belligerence of the huge ruler, as well as the stalwart nature of the hot dog itself, are indicative of American stubbornness: Remember those endless attempts to get us to change to the metric system!
Another standard symbol which has become ubiquitous is the pared-down, de-sexed images of the generic person. Brooks has adopted the familiar graphic figures of "woman" and "man" which indicate bathroom locations throughout the world, but has joined them onto one sign. By then labeling it "platonic," she instantly brings back the many specific possibilities of relationships between these stick figures, or rather the real people which they symbolize. This juxtaposition of image and text helps the viewer to more closely inspect the figures, and conclude that Brooks' label is perhaps the only correct one. The circular heads don't even touch the genital-less bodies, so anything more than polite conversation will never pass between the two. In a new series of photographs titled "Boys and their Mothers' Station Wagons," Brooks is taking another type of image, the pleasing personal snap-shot, and setting up more tension between objective classification and subjective specificity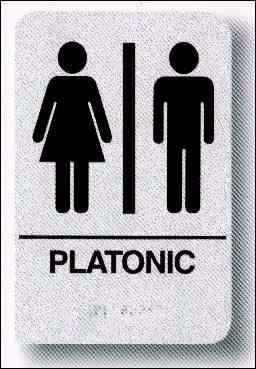 There is a poignancy in the sincere irony of Stephanie Brooks artwork that helps to engage the viewer in considering his or her relationship to systems that rule our world; from punching in our personal identification number at the automated teller machine to passing judgment on a famous work of art. Through her surprising shifts of resignification of familiar forms and activities, Brooks wryly encourages us to remain aware of our comfortable complicity within the social order.
Kathryn Hixson is editor of New Art Examiner
---
titles:
(1) - untitled (I like my job) contact lenses w/ dry transfer lettering 1"x3" 1996
(2) - Feel Good Here outdoor installation, Harrison Park, Chicago 1997
(3) Feel Good Here detail
(4) - Great Idea engraved metal and wood plaque 8"x30" 1997 (detail)
(5) - untitled (Platonic) plastic w/ enamel 8"x6" 1996
---
Brochure available from Ten in One Gallery, Chicago
Brochure design Kim Allen
Brochure printing C & D Print Shop, Chicago
Entire content copyright 1998 Ten in One Gallery Inc
---

The Unofficial Uncomfortable Spaces Website
Site Host: Counterpoint Networking Inc, www.cpoint.net
URL: http://spaces.org/archive/spaces/brooks.htm